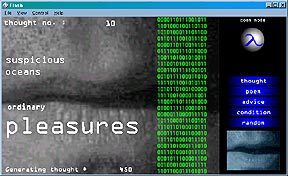 Thought Generator v.2.3
by H-Ray Heine
German-American fluxus artist H-Ray Heine's digital media work Thought Generator presents the viewer with an amazing series of randomly generated sentences that include Haiku poems, advice, if...then... and simple statements.
H-Ray described this media work as "a kind of semantic Tarot deck crossed with a Poetic Rorschach test." Due to the randomness of the generated sentences, the work produces a different output each time it is run. The generated sentences range from apparently profound observations to surreal utterances that would seem adequate for any techno/dada manifesto.
The work, which was first shown at VITRA Gallery in San Francisco in October 2000, is presented as a 283 Kb Flash 4 file and features an audio architecture that includes audio files created by H-Ray's long time collaborator U.Do Hanten.

Start Thought Generator v.2.3
Flash Plugin Required - To avoid conflicts with other presentations, please close the popup window after viewing the work.