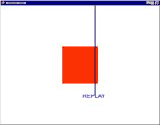 ModRandom
by Monetari Tencent
Modrandom is a minimalist exercise in calculus bop by Libian born media artist Monetari Tencent.
In 'Modrandom', a 76 KB dcr file made with Macromedia Director 7, two lines of code generate random positions and timing, each time delivering a different musical interpretation of piano and percussion interplay.
Besides these experiments, MT is currently finishing a cdrom project 'CityScapes' with contributions from David Shea, Scanner and DJ Spooky.



View ModRandom
Shockwave Plugin Required - To avoid conflicts with other presentations, please close window after viewing the work.